Sorry about not posting this last week. I'm dropping the ball on you guys.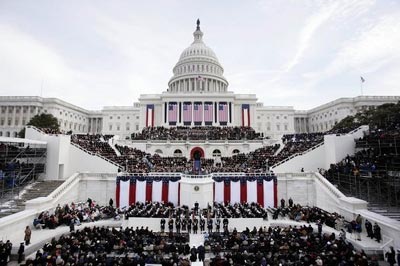 Here's some important inaugural info for those of you who are (blessedly) not in DC for the festivities.
Sunday, January 18

Opening Ceremony and We Are One concert at Lincoln Memorial
This will be shown
free
on HBO and HBO.com at 11:30am pacific (with an encore at 11:30pm). The list of performers is
pretty long
.
Monday, January 19
Martin Luther King Jr. Day and National Day of Service
This is a damned good idea: MLK Jr. Day will be recognized as a day of service. You can go to
USAService.org
to find activities near you. With luck, this could turn into our first national Internet tradition. (In the meantime, please don't be discouraged by some of the... peculiar... offerings you may find. These are good people. They're just very excited so humor their leftiness for one day.)
Bipartisan dinners
These are by invitation only, but noteworthy. They'll honor three Americans: Colin Powell, Joe Biden and John McCain. Yup, you read that right. I hope it becomes a tradition for Presidents-elect to honor their erstwhile political opponents. It's quirky traditions like this, I think, that keep our democracy healthy and stable.
Kids' inaugural concert: We Are the Future
Keep the hopetacular goin', kids!
Alright, for my friends who do have little ones ('Ticia), I'm sorry for the snark. But really, how can anyone buy into this without thinking of Micheal Jackson's retrospectively creepy
Super Bowl performace
? Kids are great, I suppose. I'm this close, though, to putting them in the Things-People-Assume-Are-Universally-Consequential-But-Really-Aren't category along with the marriage debate and Tibet. Anyway, Miley Cyrus and the Jonas Brothers on
Disney Channel
free at 5:00pm pacific.
Tuesday, January 20
Swearing in ceremony
The big day! Watch it just about anywhere you want. I'll be watching them shift uncomfortably in their seats on FOX News. Unless Rick Sanchez is covering it on CNN because Mom was right - that dude kicks ass.
Commander-in-Chief Ball

4:00pm pacific on the
Pentagon Channel
. This is a tradition started by President Bush to honor servicemen and women.

Neighborhood Ball
8:00pm pacific on
ABC
. Supporters are encouraged to host Neighborhood Ball parties, kinda like the house parties from the campaign.
WaPo had a
decent article
on one town in Arkansas having misgivings about the Obama Administration and its apparent emphasis on urban concerns. Let's keep in mind that "urban" is still code for "colored folk" in this country.
Youth Ball
10:00pm pacific on MTV. Rock the Vote! Vote or Die! Be the Change! Please, PLEASE vote in the mid-terms, 18-25 year olds!
That's about it. Hope you get a chance to watch something of this big smorgasbord of
CHANGE
. Especially if you didn't vote for Obama or, like many of us, had your enthusiasm a bit smothered under the edifice of Obamamania, its good to participate in these kinds of national pageantry. Power changes hands in this country frequently. We should remember that before we head back to our respective political trenches.